We hope to able to host you again soon, but we understand the need to stem the overall rate of infection of the virus at this time. Here is our risk mitigation strategy for when we are eventually able to open again.
Re-opening (again) as safely as possible
Upon proactively closing our doors in March, we'd already decided not to operate the freshly constructed Bar Avelo as a bar until the virus was well under control. The tight spacing and close social interaction fostered by bars are unfortunately ideal circumstances for the spread of coronavirus. We will instead use the beautiful Bar Avelo space as an additional dining room with only two tables.
We know that restaurants can host guests indoors safely because it's been done without outbreaks for months in countries where the virus is substantially under control – places like China, Taiwan, and Italy. Toronto and the rest of Ontario have only recently started to see lower numbers of COVID-19 cases, which may indicate that it is similarly coming under control here.
When we do re-open, we want to make sure that we operate as safely as possible for our guests and staff, so we've designed a layout and protocols to minimize risk.
Much of our understanding of how the virus spreads is based on case studies, and we've paid particular attention to a study of infection in a Guangzhou restaurant. This study illustrates the spread of coronavirus from one group to two other groups at nearby tables. Researchers believe that airflow from the restaurant's air conditioning system propelled respiratory droplets across the room. Diners at other nearby tables outside this path of airflow were not infected, despite similar proximity. No staff were infected, even though this occurred before mask-wearing became common for restaurant workers.
With this information in mind, our strategy seeks to prevent the transmission of respiratory droplets from one group to another, and between staff and guests. The floorplan for Avelo's main dining room shows dotted lines representing 8′ high acrylic partitions. The airflow from air conditioning and heat still goes over the tops of the partitions (the ceiling is about 2′ higher than the partitions), but respiratory droplets are not able to move between tables. There's also a HEPA air purifier in each section that continuously cycles the air through a filter about 9 times per hour.
Servers will communicate by video chat for longer conversations, such as in-depth descriptions of dishes or wine recommendations. Face to face interaction will be limited mostly to dropping off and picking up items at tables.
Restaurant in Guangzhou, China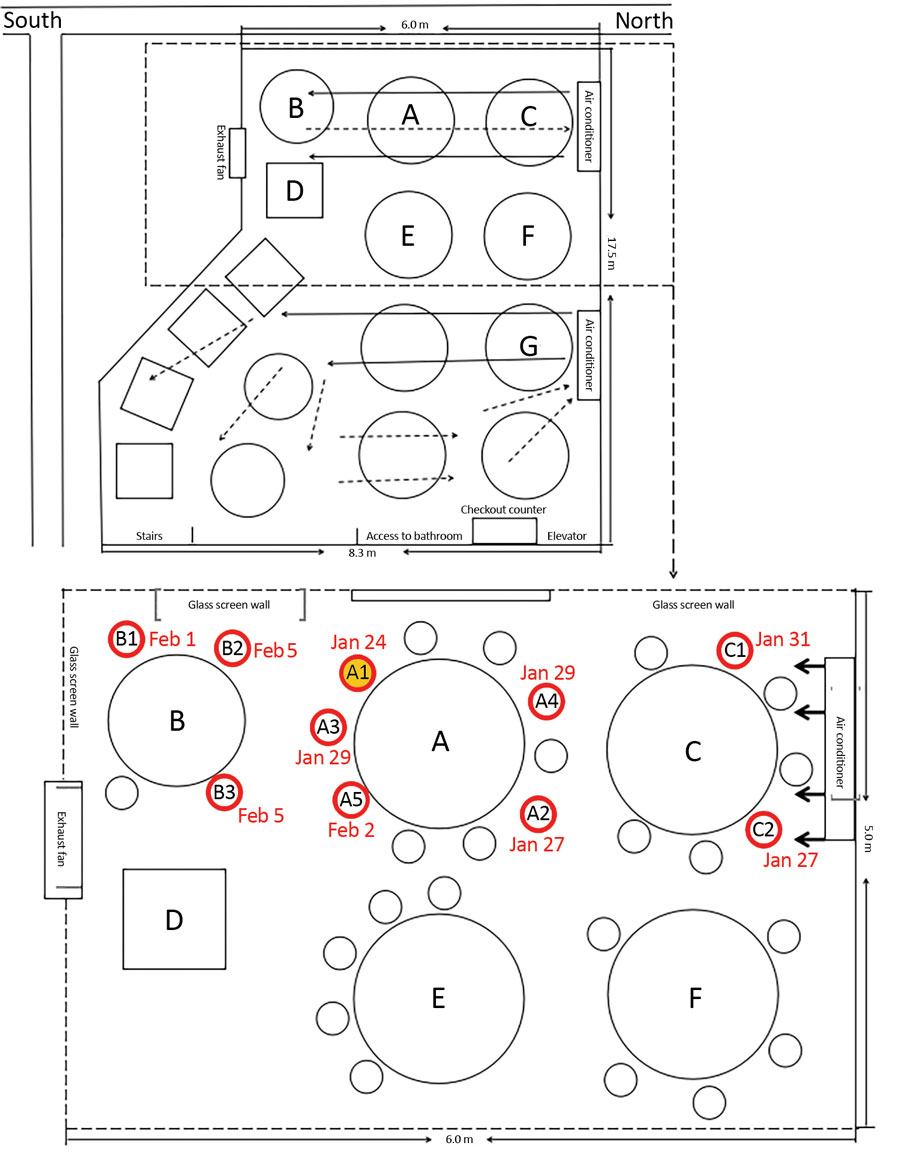 Avelo floor plan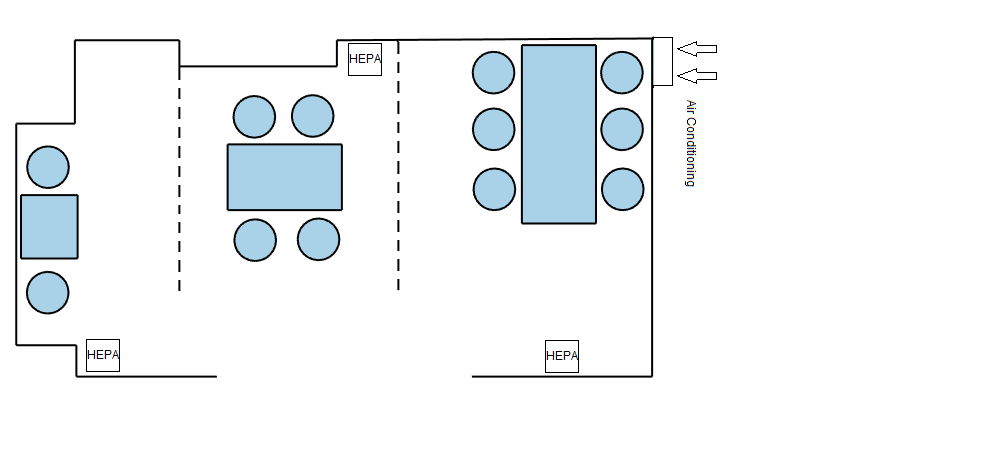 ---
Here's a summary of our COVID-19 safety plan:
Dining rooms
1. 8′ high acrylic walls, creating semi-private sections
2. HEPA air purifiers in each section
Cleaning processes
1. At least 15 minutes between groups at the same table
2. All chairs and tables sanitized between groups
3. Hand sanitizer available at entrance
4. Bathroom surfaces sanitized regularly
Guests
1. Staff will check guests' temperature at the entrance. If you are feeling ill, e.g. have a fever or cough, please stay home.
2. Reservations only (Last minute reservations can be made at the door if space allows)
3. Guests must wear masks whenever they are not seated at their table
Service
1. All staff wearing masks
2. Menus available online, and also laminated menus, which are sanitized between groups of guests
3. For longer conversations, servers will communicate by video chat